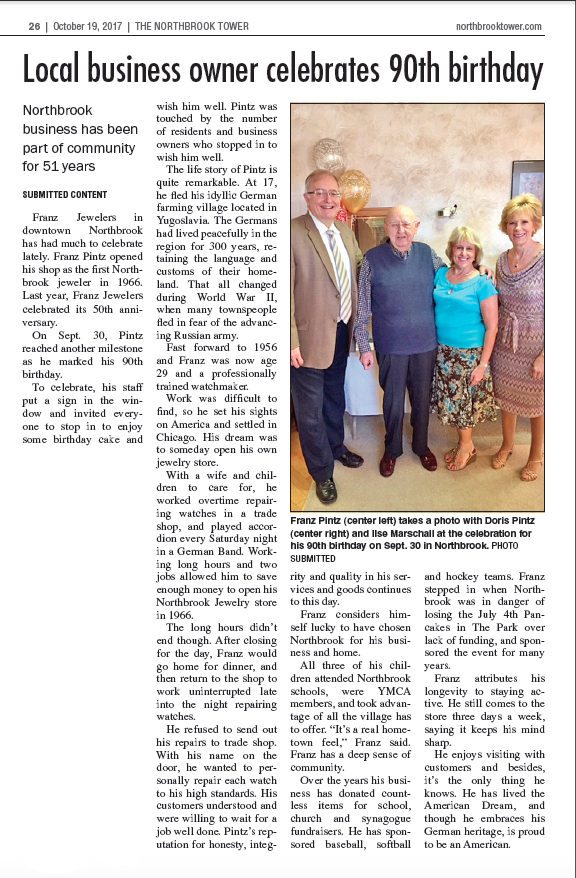 Proud of Who We Are, and Where We Came From:
In 1957, a young watchmaker, trained in his German homeland, crossed the Atlantic to find work in his trade in Chicago. His dream was to open his own jewelry store one day. Franz found work in a trade shop, repairing watches for shops in the area. His supervisor was concerned because the number of watches he repaired was less than those repaired by the others. By the end of the first month, however, the boss realized that while Franz repaired less watches, none of them were returned with problems. While others wasted time redoing work, Franz did not.  Do it right the first time was his mantra, and it is this philosophy Franz Jewelers Ltd follows to this day.
In 1966 Franz opened Northbrook's first jewelry store in the Chicago Suburb's growing downtown.
For over 50 years, our philosophy has remained the same; provide excellent quality of product and service at a fair price.
Franz Pintz 
Our founder can still be found working in the store at 91 years young!
He especially enjoys speaking with customers who remember coming to the store with their parents as children and are now customers themselves.   You may even spot him working at the watch bench!
Frank Pintz
Frank joined his father in 1983, after completing extensive training in diamonds and gemstones at the Gemological Institute of America (GIA)  Frank is a Graduate Gemologist, and lends his expertise in jewelry appraisal and gem identification. He also has a vast knowledge of vintage watches and vintage jewelry. He enjoys answering questions customers have about their family pieces. Frank can also help you locate a particular watch or vintage item you are looking for, or sell one of your pieces through his national network of jewelers and estate dealers.
Ilse
Ilse also grew up in the jewelry business, working alongside her father at their Mt. Prospect store until his retirement in 1990. She has been with Franz since then, and is a true talent. Growing up in the business, her expertise ranges far beyond the average sales associate. Ilse knows the products, and can help you find what you are looking for. She also knows her way around the jewelry repair and watch repair bench. Ilse is a great problem solver, and will find a solution to your jewelry problem where others have told you "not possible".
Doris
Doris, Franz's daughter, also spent her summers and school holidays working in the business through high school and college. After years in the corporate world and then as a full time Mom, She returned to Franz Jewelers in 2007.  Having two millennial children of her own, Doris especially enjoys working with the young men and women looking for engagement and wedding rings. She has an instant rapport with them, and they are put to ease by her casual, caring attitude.